Multicolour Dimmable LED Floor Lamp, Large 60cm Cube Stool, Handmade Design
Free delivery in UK Mainland
Watch video of personalised lamps
Overview of personalised lights
- All lamps customised by hand, in our studio in Wolverhampton (in West Midlands, UK)
- Latest Roland printer with 8 inks - can
match brand colours closely
- Large quantities in stock (10,000 sq foot warehouse)
- Examples of
recent projects
:
- See all recent projects on our
portfolio page
.
Prices for cubes
- See prices in table below (prices exclude VAT)
- Cubes can be rechargeable or mains powered (same price)
- Full colour wrap (last column) means that the entire cube is covered in your custom design or colours: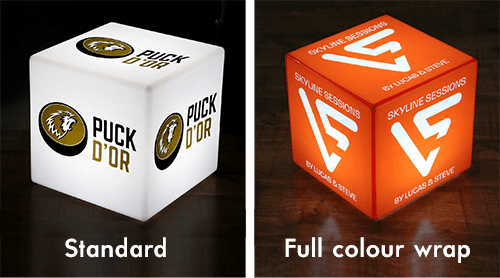 Number of sides customised
Size
1 side
2 sides
3 sides
4 sides
5 sides
Full colour wrap
10cm
£62
£80
£98
£110
£122
£146
20cm
£98
£128
£158
£182
£206
£242
30cm
£128
£164
£200
£230
£260
£308
40cm
£162
£204
£246
£282
£318
£378
50cm
£221
£275
£329
£377
£425
£497
60cm
£336
£402
£468
£528
£588
£684
80cm
£622
£706
£790
£868
£946
£1066
Delivery options
- Standard (12-16 working days):
free
in UK mainland
- Express (7 working days): £145 + VAT
- Express Plus (3 working days): £245 + VAT
One-of-a-kind lamp from PK Green, with unique handcrafted design. Perfect for home, party or event. Also makes a unique gift, for him or her- Premium multicolour, remote-controlled, LED cube stool floor lamp. Dimensions: 60 x 60 x 60 cm
- Strong enough to sit on. Can use as stool, seat, side table, coffee table, furniture
- Mains powered. Multi-colour E27 RGB bulb already installed in the lamp. Remote included so you can control the lamp at your leisure
- Use remote to choose from 16 colours (including white) and 4 colour changing modes (including gradual colour change). Light is also dimmable
- The ultimate furniture piece for lounge, party, wedding, event, venue, nightclub, restaurant, hotel
- Note: the unique design on the lamp is handcrafted with ultra-thin, waterproof, precision-cut vinyl. This gives it a printed look. All designs are crafted and made by hand, in the UK (at our studios in Wolverhampton)
A one-of-a-kind lamp from PK Green
This premium PK Green lamp has a unique handcrafted design. You can choose the design you want.
With this light, you'll be able to create a unique atmosphere in your home, venue, party or event.
It also makes a unique gift, for him or for her - a thoughtful present which your recipient will actually use every day and which will make them think of you.
Perfect for birthday, housewarming, festival, wedding, Christmas or special occasion.
Whether you gift this lamp, or feature it in your home or event, it is sure to make an unforgettable impression.


Features of your lamp
This premium quality PK Green LED cube stool is the ultimate piece of light up furniture for your home or event.
The lamp is strong enough to sit on (80kg weight capacity). You can use it in your home as a seat, stool, side table for bedroom, designer coffee table for living room, modern dimmable floor lamp, colour changing lightbox, or ambient RGB mood light for atmosphere lighting.
You can also use it as a striking light box or illuminated feature piece at your event, wedding, bar, hotel lobby, restaurant, café, coffee shop, night club and more. Scatter multiple cubes across your venue to create spectacular mood lighting.
The lamp is remote controlled. You can choose from 16 static colours (including white) and 4 colour changing modes (flash, strobe, fade, gradual colour change). You can also dim or brighten the light.
The lamp is mains powered - so you won't have to worry about constantly charging or replacing the batteries.
- Dimensions: 60 x 60 x 60 cm
- Strong enough to sit on: 80kg weight bearing capacity
- Mains powered
- Multicolour RGB E27 bulb already installed in the lightbox (replaceable, compatible with Philips Hue and other E27 bulbs)
- Voltage: 110 - 240 V
- Cable length: 1.5 metres
- Cable colour: transparent
- Material: High quality PE plastic
What you get
- Mains powered, multi-colour, LED cube stool light
- Remote control


How the design on your lamp is made
The design on your lamp will be handcrafted in the UK - using waterproof, ultra-thin, custom-cut vinyl.
This will give it a premium look and feel - far superior to printing.
All lamps are assembled and customised by hand, in our workshop in Wolverhampton (in West Midlands, UK).
Note: harsh use (e.g. scratching with sharp objects) may result in damage of lamp surface or vinyls.
Get a free mockup & quote today
Just click below and we'll send you a free visual and quote.
You can also buy right now by clicking Add to Basket below.
Note: This is for 1 side customised. Send artwork to custom@pkgreen.com. Extra charges may apply for complex designs. We recommend getting the free visual and quote first.
Super quick delivery and excellent service.
We have used PK Green countless times, and their lamps always work wonders at our events.
- David W.
The personalised spheres look amazing!
They add another dimension compared to regular lamps and work great with our company logo.
- Paulette L.
I was very impressed by PK Green's customer service.
I had a few issues with my order, but they went above and beyond to resolve them. Couldn't be happier!
- Tom B.
The customised lamps you produced were exceptional.
Everyone was talking about them. They certainly made an impression and will help us get more clients.
- Abigail C.
Thank you for the great service.
The service you provided was just as personal as the personalised light boxes!
- Fiona H.
Excellent quality lights.
They are robust and have withstood the test of time - even outdoors. Would definitely recommend.
- Mark R.