This page has been specially created, for the purchase of branded PK Green lamps.

Scroll down to see all shapes and sizes.

All prices exclude VAT.
Watch video
The PK Green difference
- All personalisation done by hand, in our own studios in Wolverhampton
- Free standard delivery in UK mainland
-
Fast production
possible (can be under 48 hours if required)
- Large quantities kept in stock (10,000 sq foot warehouse)
- Semi-transparent inks allow light to shine through, but maintain colour vibrancy
- Latest Roland printer with 8 inks -
can match brand colours closely
- Full colour wrapping possible for a unique effect
Recent projects
- See recent projects on our
portfolio page
.
Cube Light Boxes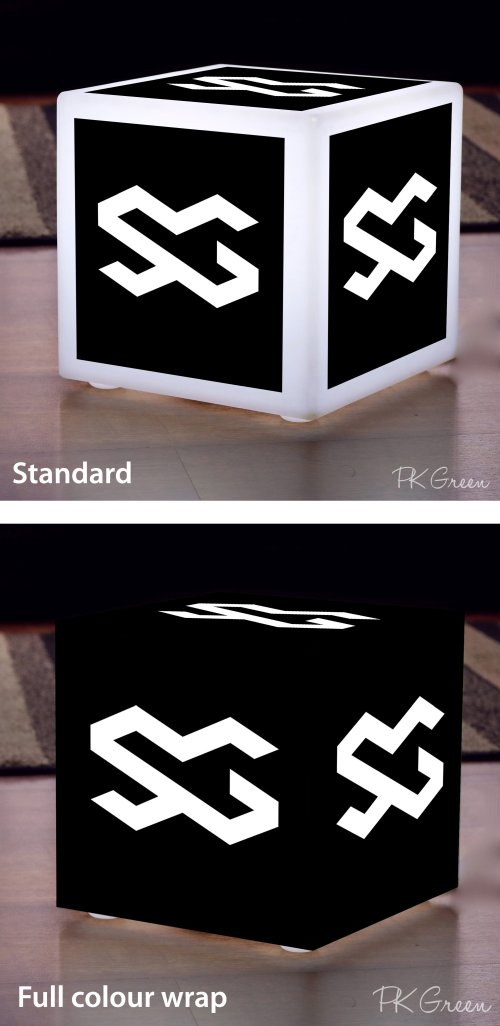 - Sizes 40cm and larger are strong enough to sit on (can be used as stools / seats).
- Full colour wrap possible (entire cube wrapped in custom design / colours).
- Your choice of power source: rechargeable (wireless) or mains powered.
 
Number of sides customised
Size
1 side
2 sides
3 sides
4 sides
5 sides
Full colour wrap
10cm
£60
£77
£93
£105
£116
£138
20cm
£83
£111
£139
£162
£184
£218
30cm
£108
£142
£175
£203
£231
£276
40cm
£136
£175
£214
£248
£282
£338
50cm
£185
£236
£286
£331
£376
£443
60cm
£279
£341
£403
£459
£515
£604
80cm
£510
£588
£667
£740
£812
£924

Delivery options (choose at checkout)
- Standard (12-16 working days): Free

- Express (7 working days): £145 + VAT

- Express Plus (3 working days): £245 + VAT