South Sri Lanka Signature Villas
This page has been specially created, for the purchase of branded PK Green lamps.

Scroll down to see all shapes and sizes.

All prices exclude VAT.
Watch video
The PK Green difference
- All personalisation done by hand, in our own studios in Wolverhampton
- Free standard delivery in UK mainland
-
Fast production
possible (can be under 48 hours if required)
- Large quantities kept in stock (10,000 sq foot warehouse)
- Semi-transparent inks allow light to shine through, but maintain colour vibrancy
- Latest Roland printer with 8 inks -
can match brand colours closely
- Full colour wrapping possible for a unique effect
Recent projects
- See recent projects on our
portfolio page
.
Cube Light Boxes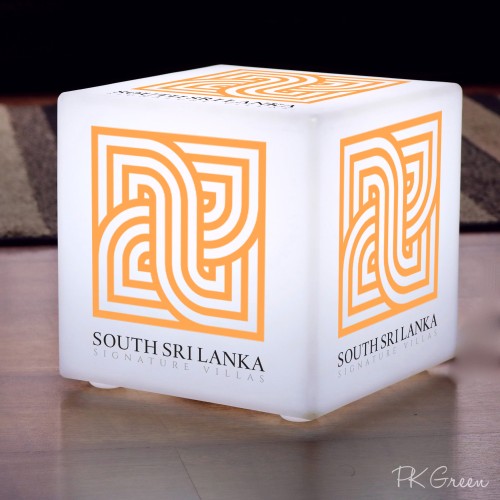 - Sizes 40cm and larger are strong enough to sit on (can be used as stools / seats).
- Full colour wrap possible (entire cube wrapped in custom design / colours).
- Your choice of power source: rechargeable (wireless) or mains powered.
 
Number of sides customised
Size
1 side
2 sides
3 sides
4 sides
5 sides
Full colour wrap
10cm
£69
£87
£105
£117
£129
£153
20cm
£112
£142
£172
£196
£220
£256
30cm
£148
£184
£220
£250
£280
£328
40cm
£188
£230
£272
£308
£344
£404
50cm
£258
£312
£366
£414
£462
£534
60cm
£399
£465
£531
£591
£651
£747
80cm
£744
£828
£912
£990
£1068
£1188

Delivery options (choose at checkout)
- Standard (12-16 working days): Free

- Express (7 working days): £145 + VAT

- Express Plus (3 working days): £245 + VAT



Super quick delivery and excellent service.
We have used PK Green countless times, and their lamps always work wonders at our events.
- David W.
The personalised spheres look amazing!
They add another dimension compared to regular lamps and work great with our company logo.
- Paulette L.
I was very impressed by PK Green's customer service.
I had a few issues with my order, but they went above and beyond to resolve them. Couldn't be happier!
- Tom B.
The customised lamps you produced were exceptional.
Everyone was talking about them. They certainly made an impression and will help us get more clients.
- Abigail C.
Thank you for the great service.
The service you provided was just as personal as the personalised light boxes!
- Fiona H.
Excellent quality lights.
They are robust and have withstood the test of time - even outdoors. Would definitely recommend.
- Mark R.